Working with Me
Supporting you to achieve optimum health and well-being
Perhaps you're reading this because you want to feel less anxious, more confident, have a health issue, or, need to let go of a belief, fear or behaviour which is holding you back. I have been working as a Therapist, successfully helping people to achieve  positive change in their lives, for over nine years.
Imagine what your life would be like if you could change any negative thinking and behaviour, and you began to feel good about yourself. Clients often find the benefits extend into both their personal and professional lives, as they begin to feel more relaxed, happier and content.
My Ealing practice is a quiet, safe, non-judgemental environment, and  I use natural, highly effective, evidence based techniques.  Just as your needs are unique, you will receive personalised, tailored sessions, whatever therapy you choose.
"Jo really knows her stuff, everything she said made so much sense. She is easy to talk to, and I felt totally comfortable. I will definitely see her next time I need some help."
Where am I?
I offer Cognitive Hypnotherapy, Reflexology and Hypnobirthing in my comfortable, calm treatment room in Ealing, West London. Street parking is available.
Would you like to find out more?
It is important that we make the right decision about if this is the right way forward for you. So have a look around my website, read my testimonials or google reviews, then if you would like to find out more contact me for a complementary phone conversation.  It would be a pleasure to answer any questions you may have.
I thrive on seeing positive change in my clients and it would be a privilege to help you be the ultimate you.
I look forward to hearing from you.
Jo
Cognitive Hypnotherapy, Reflexology & Hypnobirthing
Fertility – Pregnancy – Childbirth – Anxiety – Weight Loss – Confidence – Phobias – Insomnia
Clinic:  Ealing, West London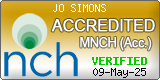 "I'm sleeping better, enjoying my job & feel more confident.  It's had a positive impact on my home life & relationship."