Jo Simons - Cognitive Hypnotherapist & Reflexologist, West London

If you would like to find out more about Cognitive Hypnotherapy, Hypnobirthing or Reflexology, phone me, or complete the contact form so I can call you back later.

I offer an initial telephone conversation so you can take the opportunity to ask any questions you have, and find out if my approach is right for you.

Please let me know some good times for you to have a conversation, and don't forget to leave your number.

I would love to hear from you.
Jo
Mobile: 07798 924636
Email: jo@josimons.co.uk
Address: 35 Sunnyside Road, Ealing, West London W5 5HT


Please be aware that if you send me any sensitive medical/health information, I will only hold and use this if we proceed to treatment, at which time I will require explicit consent from you to hold this data. If we do not proceed to treatment I will erase this information.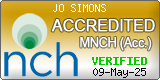 "I went to Jo for hypnosis for fertility and stress relief at work.  After my initial session I felt much calmer and relaxed, more in control at work and a lot less stressed.  I cannot recommend Jo enough, she has made going to work almost a pleasure!"
"I was a bit apprehensive about whether cognitive hypnotherapy could help with my issue, but Jo really knows her stuff and everything she said made so much sense. Jo is really easy to talk to, which was really important to me. I felt totally comfortable with her, and will definitely be seeing her again next time I need a bit of help."
"I am happy to report that I am sleeping much better and have not had a night where I have woken in the middle of the night since our last session.  Also, I am enjoying my job much more and I feel more confident. This has had a positive impact on my home life and relationship as well." 
"I was terrified of giving birth but after going to Jo's hynobirthing sessions I felt so much more positive. She taught me numerous different ways to help relax me during the labour as well as practical tecnhiques which will help me in everyday life."        
"I cannot stress enough how effective reflexology has been on improving my lower backache and stress levels. It was painful and stiff every day. Now after seeing Jo, I hardly have any pain. I am also more relaxed, less stressed and more in tune with my body."